DYNAMax Concrete 

Bringing Your Boldest Visions to Life
 
DYNAMax delivers the high strength, outstanding durability and superior rigidity you need to push the boundaries of engineering design—and achieve new dimensions in building.  Designed by the most innovative minds in materials design and application, DYNAMax concrete's high-performance, sustainable, and resource-saving benefits make it the ultimate solution for your project.
Image

DYNAMax high-performance properties are also disrupting the standards by putting greater design freedom in the hands of architects and designers—creating an opportunity for them to aspire to go higher. As an integrated part of the engineering design process and speculations, DYNAMax allows you to rise to society's challenge for more structures offering unique visual appeal, but without compromising functionality or environmental commitments. Moreover, as a resource-saving sustainable concrete, it can help reduce a project's overall carbon footprint, making it possible for you to use fewer materials—and that means less production and transportation, all contributing to a greener process.

Designed by the most innovative minds in materials design and application, DYNAMax concrete has high-performance, sustainability and resource-saving benefits that make it the ultimate solution for your project.
Integration with Ready Mix Concrete Digital Services
For additional job site optimization, use the exclusive Holcim ready mix concrete digital technology with DYNAMax. Digitally unlock performance by providing full control of and confidence in concrete performance, even in the most complex and technically demanding projects.  
Ready Mix Digital Services help job site performance by:
Enhancing the speed and quality of decision-making to increase construction quality and durability.
Providing the optimal choice of pump for an uninterrupted and efficient pumping process without costly real-size mock-ups. 
Ensuring pumping feasibility in complex situations.
Higher stability and longer spans: Achieved by very high compressive strengths, superior rigidity and a high E-Modulus.
High design freedom: Enables more functional and appealing structures. 
Ability to achieve thinner cross-sections for columns, walls and slabs as well as substantially longer spans and longer column grids: giving you greater design flexibility, improved functionality and more usable space for the same building volume.
Improved carbon footprint for your building. With DYNAMax you can—execute components and structures with significantly less concrete and steel reinforcement while leveraging locally produced materials with short transport routes. 
Very high strength and durability: Significantly increases the technical service life of buildings. 
Excellent corrosion resistance and outstanding performance of exposed concrete components, which allows resistance to extreme weather events, reduced maintenance costs and longer service life.
 
Exposed components
Large spans
Columns and beams
Slabs
Parking garages
Stairways and elevator shafts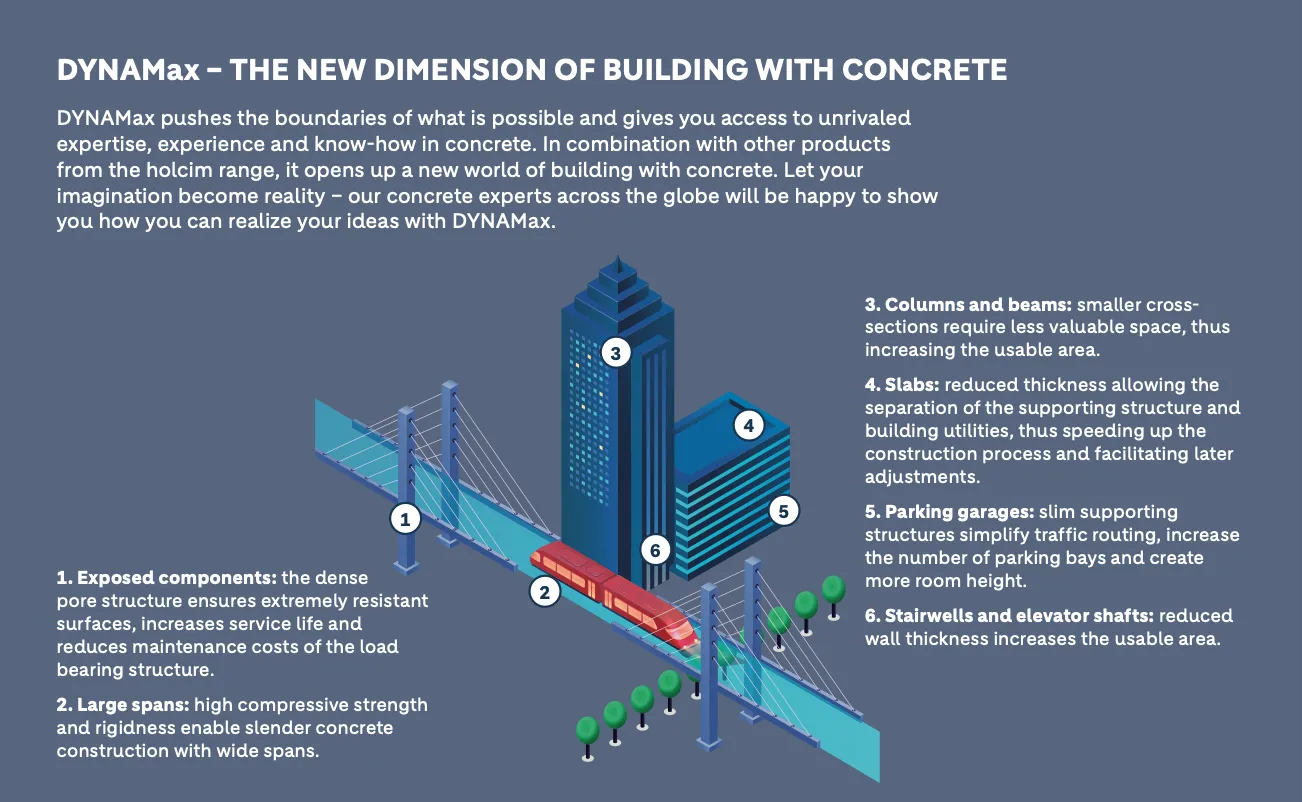 DYNAMax in Action