Thermaflow™ Thermal Fill
Thermaflow is a range of thermally conductive concrete mixes that both conduct and transfer the considerable heat generated by buried electric cables. Its performance is pre-tested and third party verified for optimized data center duct bank design. The range of Thermaflow concrete is designed to meet any level of consistency, including high flowability and small aggregate size needed to fill even tight conduit runs without vibration.

The superior thermal performance may allow conduit capacities and trench designs to be optimized translating into both material and labor cost savings.

Designed with client needs in mind, Thermaflow provides a range of strengths and levels of thermal resistivity to suit many types of projects, is engineered with local materials to reach the desired material performance and is delivered on site by mixer truck, minimizing clean-up and on-site additions.
Dissipates heat generated by buried cables that supply constant electrical power  
Predictable thermal performance may allow contractors to optimize the design of the conduit capacity and trench depth, as well as reduce construction cost  
Allow for a trench to be shallower and potentially require fewer runs of conduit potentially lowering excavation and materials costs
Local mixes are pre-tested so you can be confident the material will perform when you need it, where you need it
Image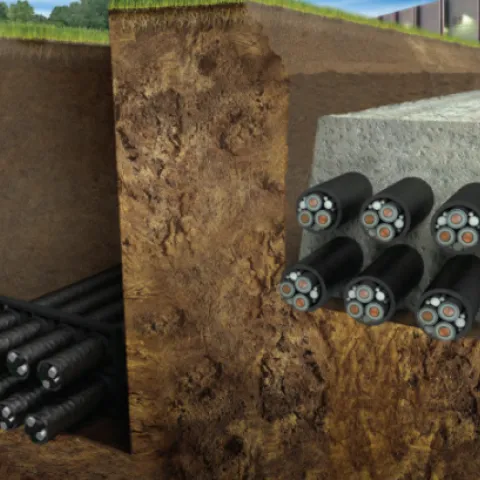 Applications include:
 
Data centers
Electric utilities 
Wind farms
 
Thermaflow in Action