Rainbow Mortamix ®
Mortar comprises 24% or more of the visual surface of a masonry wall making it a significant element of any design. 
Whether the design calls for compatibility or high contrast, Holcim's Rainbow Mortamix Custom Color Masonry Cement offers endless possibilities. We feature more than 70 colors - the largest selection of standard colors on the market today - plus custom colors can be developed by our lab to give you the visual impact desired. 
Image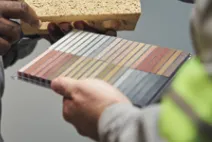 Quality. Technological advancements used in our precise manufacturing process help achieve a superior finished product that is always manufactured in accordance with appropriate ASTM specifications.
Dependability and consistency. Laboratory-controlled consistency ensures uniformity now and durability over time. Our colors are manufactured with the highest quality pigments that are durable under ultraviolet radiation for use outdoors.   
Workability. Architectural sample panels are available in all standard and custom colors, in either masonry cement or Portland/lime blends in types N, S and M.  Plus our packaging is designed to reduce labor and job site costs. 
Rainbow Mortar Mix in action