Holcim Alpena Fills the Pantries to Help Neighbors in Need During the Holidays
Well before retailers started displaying their holiday wares and advertisers started touting gift-giving ideas, the team at Holcim Alpena in Michigan had the wheels in motion for spreading their own brand of holiday cheer. In fact, beyond bringing smiles to the community, Holcim Alpena's plan focused on filling a critical need—putting ample, nutritious food on family tables—that had been intensified throughout the COVID-19 pandemic.
Image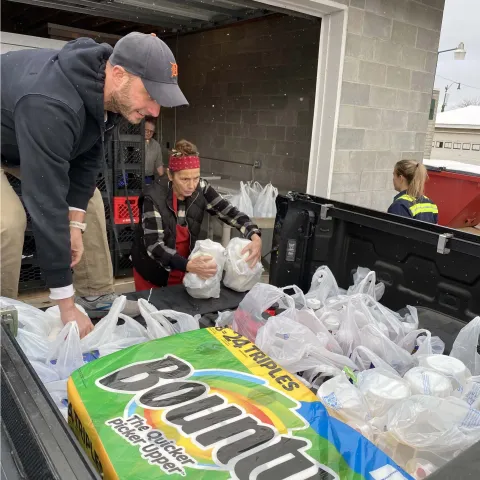 A proud member of the local community since 1907, the Holcim Alpena plant to this day has a deep-rooted commitment to giving back to the people who not only embrace their business but also provide human and other resources that allow it to grow and thrive. Moreover, with generations of local residents calling Holcim their home for more than a century, the community comprises both figurative and literal family for the Holcim Alpena team. Consequently, family provided the direction for early discussions about the team's charitable efforts for the 2022 holiday season.
Appropriately, an early inspiration for the team's activities came from a family member of Holcim Alpena's Plant Manager, Jeff Scott. When Jeff told his wife, Salina, that they were working on a holiday giving activity, she immediately suggested what would turn into the 2023 plant wide effort.
"At times like this, you need to look around your community and ask what our neighbors—our family—in Alpena really need right now and how can we make the greatest positive impact," said Salina Scott. "While many aspects of normalcy have returned after the height of COVID-19, the issue of food insecurity remains high in our community. I suggested filling pantries to Jeff and this is where we—the Holcim Alpena team of employees and family members like me—found our purpose and directed our efforts."
Image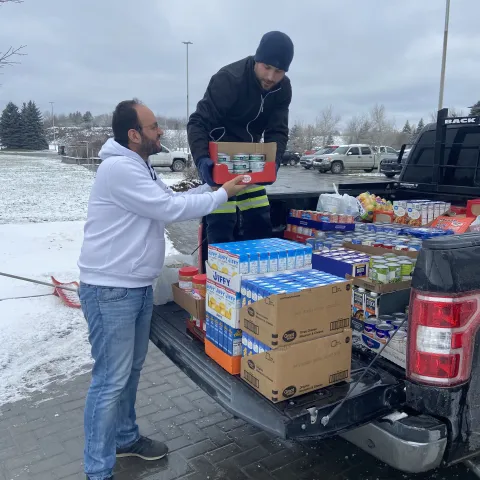 With Salina's inspiration as their guide, Jeff and Mallory Miller, the environmental engineer at Holcim Alpena, took the lead, working together to organize collections of food and monetary donations. With the Alpena community having so many wonderful charitable organizations already in place and equipped to reach neighbors in need with food and supplies, Holcim Alpena decided to partner with them to fill the pantries. The team took a "divide and conquer" approach to maximize their time and efforts. Groups were created to work as a team, each one choosing different local organizations to support. From every level of the plant and operations, team members dedicated countless hours to collecting nonperishable food items and cash donations to support the mission. Over the course of approximately five weeks, their loving efforts delivered significant results for five different organizations serving neighbors in need.
St. Bernard's Catholic Church Pantry
•  Holcim groups participating: Process, Lab, Environment, Automation, and Storeroom
•  Number of team members: 20
•  Collection goal: 3,700 lbs. of food
•  Collection achieved: 3,914 lbs.
St. Vincent De Paul of Alpena 
•  Holcim groups participating: Management and Capital Projects
•  Number of team members: 24
•  Collection goal: 4,070 lbs. of food
•  Collection achieved: 6,082 lbs. (And counting—thanks to the Yard group's ongoing collection efforts!)
Trinity Episcopal Church Pantry
•  Holcim groups participating: Quarry and Mobile
•  Number of team members: 20
•  Collection achieved: 3,200 lbs. of food
Sunrise Community Food Pantry
•  Holcim groups participating: Electrical and Instrumentation
•  Number of team members: 26
•  Collection achieved: 3,250 lbs. of food
Alpena County Baby Pantry
•  Holcim groups participating: Reliability and Kiln
•  Number of team members: 32
•  Collection achieved: $3,520
 
All told, the Holcim Alpena teams exceeded their initial goals to collect more than 20,000 pounds of food and $3,520 to support their neighbors during the holidays and winter months.

Everyone at Holcim thanks our team in Alpena for being so generous with their time, talent, and resourcefulness—and for demonstrating that community is at the heart of all we do! Without a doubt, families throughout Alpena will experience the joy of the holidays and be warmed by the kindness extended by their friends and neighbors at Holcim.