ConcreteDirect: Tips for Achieving Your Safety, Productivity and Sustainability Ambitions in 2022
 
By Olmo Lopez
On top of the labor shortages and supply-chain disruptions that continue to plague contractors everywhere, all indications point to 2022 being defined by a very busy construction season. With many potential challenges, as well as opportunities, on the horizon, you may be asking yourself, "Am I doing everything I can to streamline my concrete delivery process, maximize the efficiency of labor resources, mitigate on-site safety risks, and improve sustainable construction practices?"

Our ConcreteDirect project coordination tool can help you tackle these challenges and meet your operating goals. Here are some suggestions for leveraging the powerful digital capabilities of this innovative mobile app at your jobsites, and in the process, help your business prosper in 2022. 
Resolve to be safe 
 
With site safety as important to us as it to you, we introduced an integrated Field Level Risk Assessment (FLRA) notification within ConcreteDirect. Digitally connecting drivers, dispatchers and customers, this FLRA feature proactively identifies and instantly informs all project stakeholders of hazards detected during product deliveries.

Upon arrival at a jobsite, drivers automatically receive on their app screen an FLRA checklist of the most common hazards encountered in work zones, as well as an open text field for less-common hazards. With the spread of COVID-19 still an ongoing concern, drivers also are reminded to take proper precautions with face coverings, hand washing, and social distancing.

The FLRA is a shared document that alerts every driver delivering a payload on the same order of an identified hazard on the jobsite. If any driver reports a safety issue, ConcreteDirect's messaging system immediately notifies the customer and other connected project personnel. When the customer takes a corrective action to resolve the safety hazard, ConcreteDirect automatically informs all connected users and stores the hazard-resolution message for future reference.
Image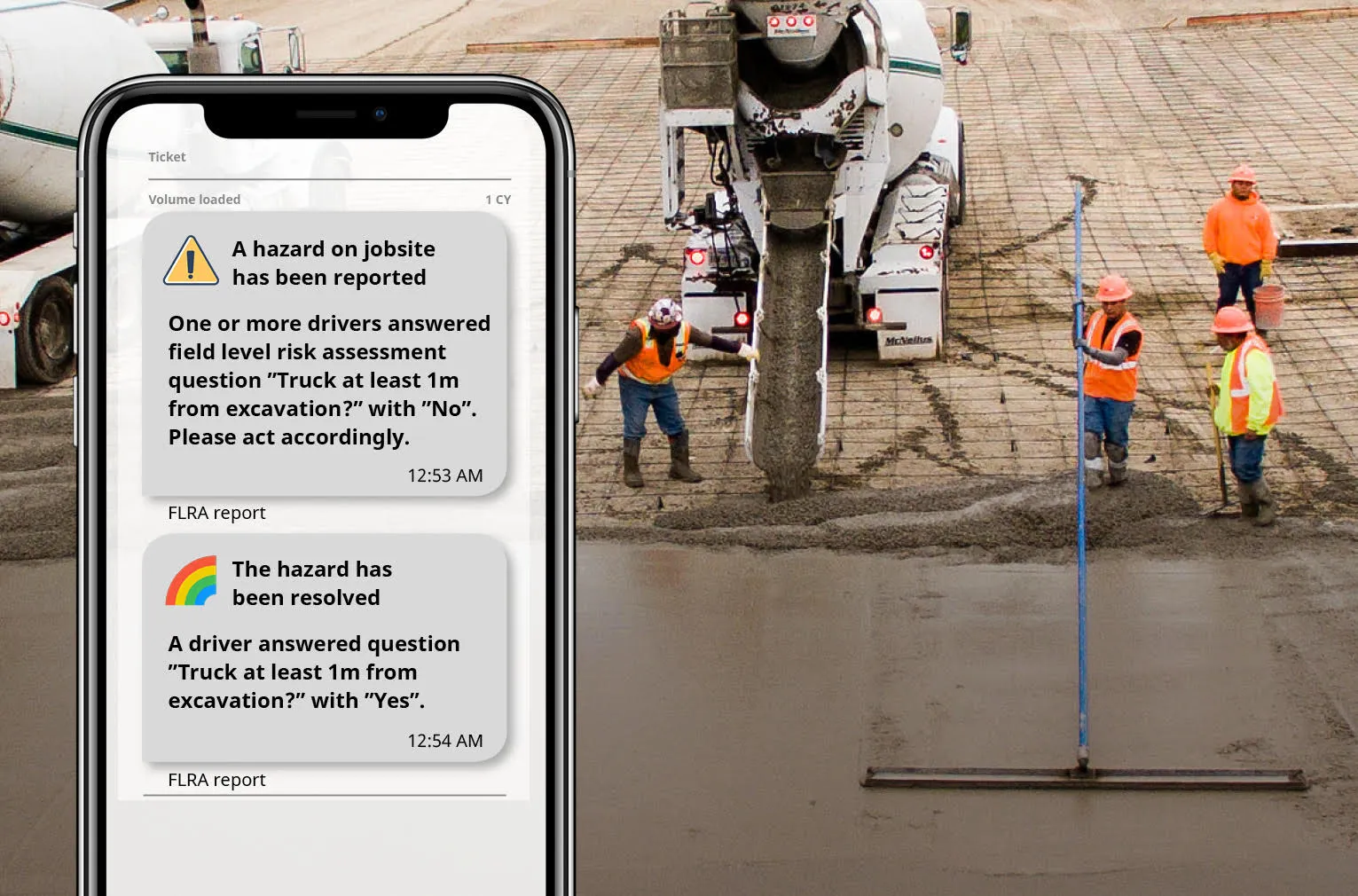 Resolve to use time more efficiently

Holcim US is keenly aware of how important a smooth-running supply chain and a highly efficient workforce is to our customers' business success. To that end, we designed our ConcreteDirect app to bring real-time communication and decision-making data right to the palm of your hand, allowing you to easily place orders, track delivery progress and receive real-time notifications of project pours.

Enhanced connectivity, transparency on concrete orders and real-time views of construction material metrics translate into an improved ability to minimize supply disruptions, increase crew productivity and visibility throughout their organization and execute construction projects efficiently. Jobsite personnel no longer need to waste time manually aggregating all the information associated with a pour. After a quick scan of the QR code on our ready-mix trucks, ConcreteDirect combines the delivery and batch ticket information provided from all the other pour information coming from various sources and makes it available to project users.

With ConcreteDirect, you can tailor up to eight custom-order fields to meet sustainability record requirements, as well as download all the customizable data sheets you need in the required format. A new feature also allows jobsite contacts to add mobile users and give them access to any jobsite to which that they already have access.
Resolve to be sustainable
 
While labor and cost savings benefits are top-of-mind for contractors; owners and those who influence specifications are increasingly interested in reducing embodied carbon in concrete. LafargeHolcim is taking steps to reduce CO2 in our products and our operations. ConcreteDirect helps contractors communicate all of the ways in which concrete can contribute to a more sustainable project. From truck emissions to water reduction to lower-carbon products, ConcreteDirect allows you to download all activity on the jobsite and view the waiting time, average truckload volume, and water added. You can share this reporting function with project and sustainability teams—allowing them to better understand and analyze how they can minimize the impact on the environment for any concrete pour.

Lastly, did you know that on this mobile app we also broadcast and spotlight alternative green solutions to your order? For example, the app may call out a solution like our ECOPact concrete with 20 percent recycled materials and a CO2 reduction of 30 percent. You also have access to a variety of sustainability metrics, our CO2 calculator, environmental product declarations and much more.
Image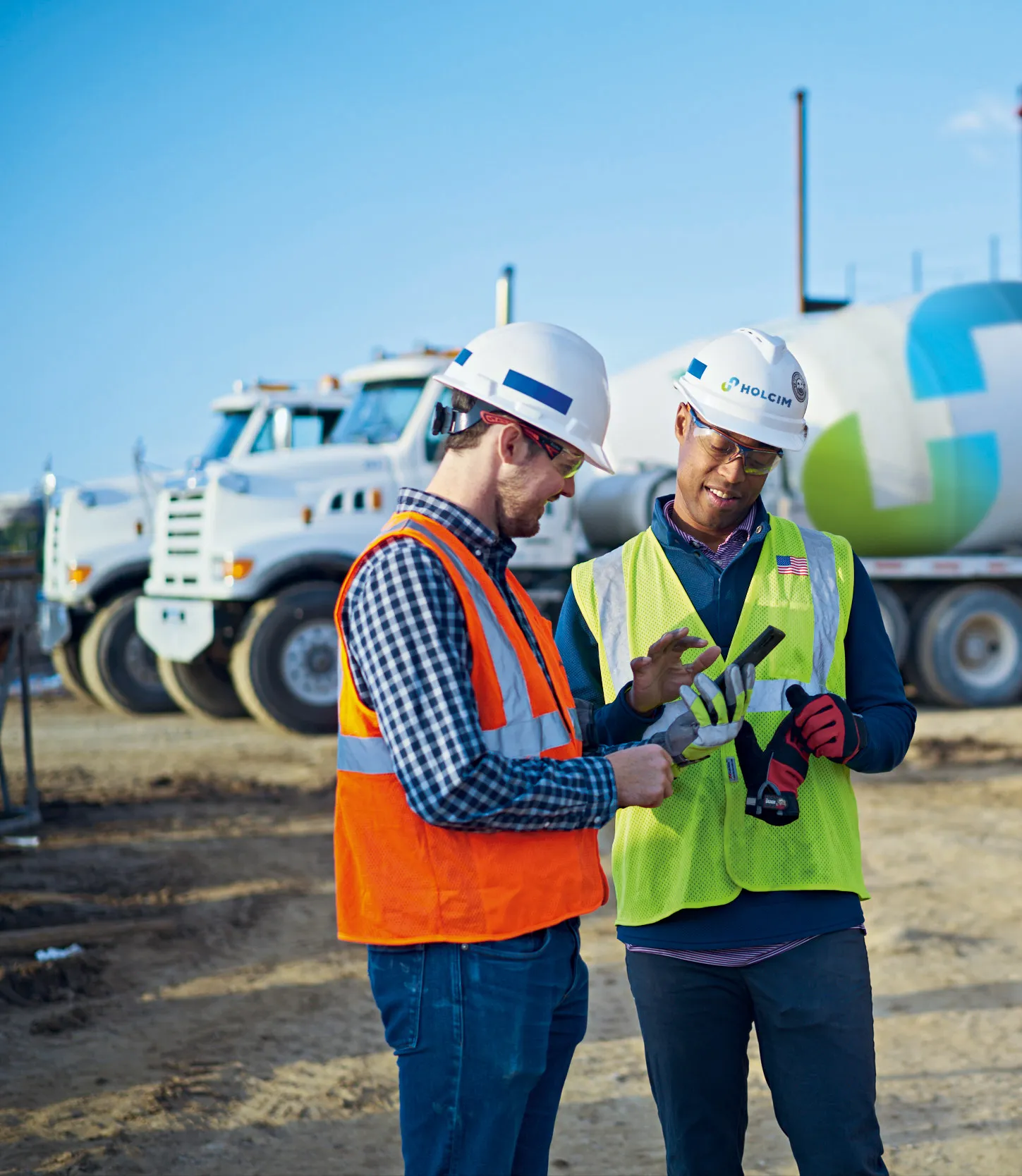 Meeting the challenges ahead

Now more than ever, contractors are operating under significant market constraints. With a focus on simplicity, transparency and solving real-world jobsite challenges, our ConcreteDirect mobile app can provide the digital solutions you need to be more successful in the busy construction season ahead.

One of the key benefits of ConcreteDirect is that it has a dedicated development team committed to making customer-recommended enhancements and continually rolling out new features that make your job easier. If you have suggested improvements that would add value to your business, please do not hesitate to contact us to discuss your recommendations.

For unaccustomed users of the app, please contact your local sales representative to learn more about the outstanding features and benefits of ConcreteDirect and how you can begin engaging your project teams in contactless and transparent concrete deliveries and pours on your jobsites.
 
Image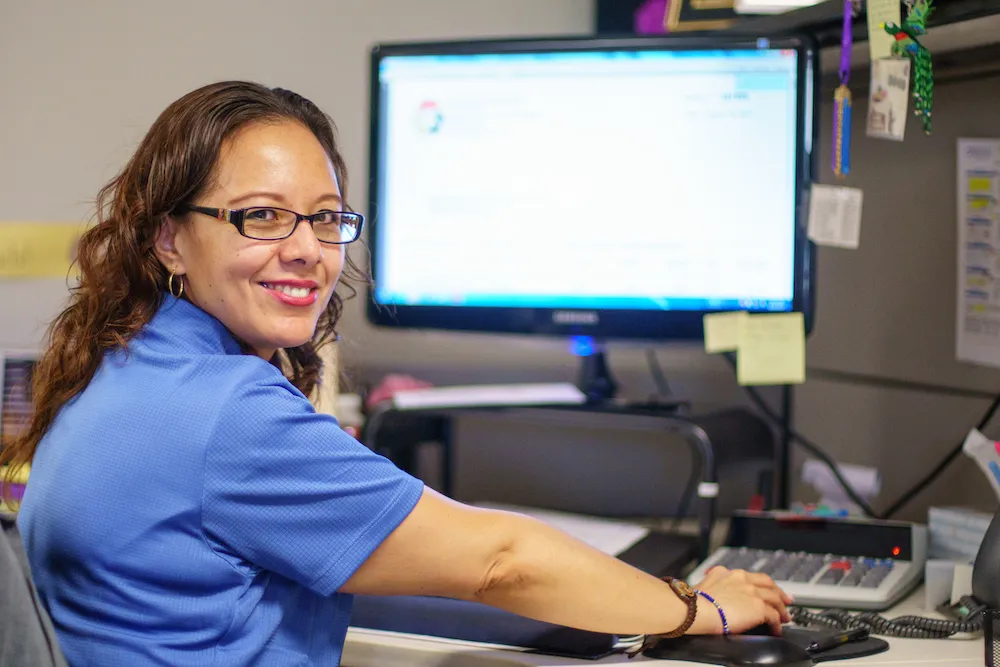 Have a question?
Our sales reps are ready to assist you with your project.